The Hohe Mark Nature Park
A varied temptation
The Hohe Mark Nature Park in North Rhine-Westphalia lies directly at the interface between Münsterland, the Lower Rhine and the Ruhr area: a small, ice-age hill country made of sandstone; the forest area Hohe Mark is the namesake. On its 1978 km², the nature park offers something for everyone and for everyone who can never get enough of everything: Great nature with beautiful views, valleys and mountains, forest in transition to wilderness, mysteriously shimmering lakes, old moors, open pastures and hiking trails, meandering through the landscape. Plus lots of culture.
And it is precisely this mixture of history, landscape and culture that makes the Hohe Mark Nature Park so special. A wealth of facets that is waiting to be discovered by you. Nature lovers, culture enthusiasts or pleasure hikers:
We look forward to your visit! For more information click on the nature park logo on the right.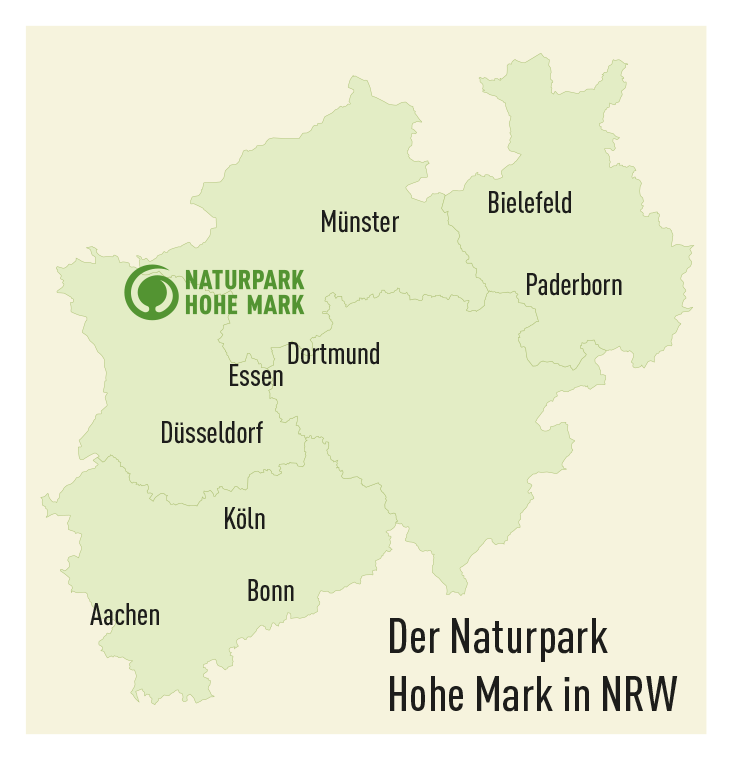 Alternating meadows and pastures ...
... with hedges, groups of trees and heathlands characterize the park landscape of the Münsterland in the Hohe Mark Nature Park. The many large forest areas are home to lowland areas and hilly areas with many retreats for native wild animals. Then the water landscape - shaped by lake panoramas, protected floodplains, rivers, streams and the extensive floodplains of the Lower Rhine. And finally the northern edge of the "Revier" with its landscapes shaped by human intervention. We invite you to discover the different landscapes of the Hohe Mark Nature Park and the local fauna.